Crispy broccoli fritters mixed with two cheeses and fried in olive oil.
Broccoli Cheddar Fritters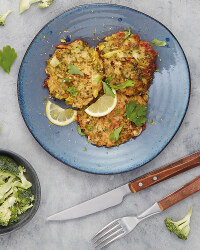 Recipe Information
Ingredients
200g Broccoli
60ml Milk
50g Cheddar, grated
50g Mozzarella, grated
2 tbsp Self Raising Flour
1 Garlic Clove, grated
1 Egg
½ tsp Paprika
Pinch of Salt
Pinch of Pepper
2 tbsp Olive Oil
Method
Bring a large pan of water to a boil.
Add the broccoli and simmer for 5 minutes until just softening, then drain and leave to cool.
Finely chop the broccoli then add all the remaining ingredients, except the olive oil, into a mixing bowl and mix until well combined.
Heat the olive oil in a large frying pan then spoon the batter mixture into 6 fritters in the pan.
Cook on each side for 2-3 minutes until golden.
Serve warm.