Enjoy this healthy dinner recipe taken from RTE's Operation Transformation
Braised Chicken Thighs with Olives & Potatoes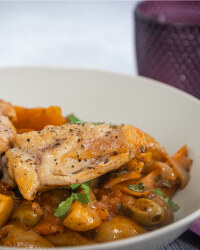 Recipe Information
Ingredients
1 garlic clove
1 small onion
5 carrots
200g baby new potatoes
2 tsp rapeseed oil (10g)
4 skinless chicken thighs (still on the bone)
½ tsp dried sage
1 tsp dried rosemary
1 tbsp tomato puree (15g)
300ml water
35g pitted green olives
5g fresh flat-leaf parsley
sea salt and freshly ground black pepper
Method
Preheat the oven to 160C / 325F / gas mark 3. Peel and crush the garlic. Cut the onion in half, then peel and cut into thin slices. Peel the carrots and cut into slices. Cut the baby potatoes into quarters. Set aside.
Heat in a casserole dish with a lid over a medium heat and add the oil (or you can start in a frying pan and transfer to a small roasting tin and use tin foil as the lid).
Season the chicken lightly with salt and pepper to taste and add to the heated casserole, presentation side down. Cook for a minute or 2 on each side or until sealed and lightly golden, turning regularly with tongs. Transfer to a plate.
Add the onion and carrots to the heated casserole and sauté for a couple of minutes, scraping any browned bits from the bottom with a wooden spoon. Stir in the garlic with the sage, rosemary and tomato puree. Pour in the water, stirring to combine and bring to a simmer. Stir in the potatoes and olives, then using a tongs put the chicken on top. Cover with a lid and cook in the oven for 1 hour until the chicken is piping hot with no pink meat and the juices run clear when tested with a small sharp knife. Divide between bowls to serve.