Watch the little monsters sap up this milky Bone Crusher cooler.
Bone Crusher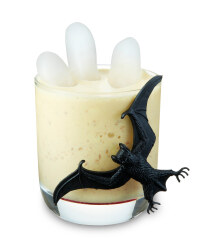 Recipe Information
Ingredients
8 large scoops Gianni's vanilla ice cream
240g Grandessa smooth or crunchy peanut butter
200ml semi skimmed milk
Method
1. Put all the ingredients into a blender and wizz.
2. Serve in glasses with the frozen fingers.
3. Serve with ice cubes made from the fingers of old rubber washing up gloves.