Beetroot and Red Onion Tarte Tatin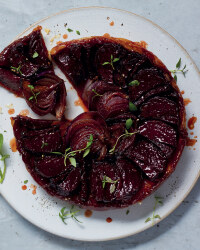 Recipe Information
Ingredients
50g The Pantry Light Soft Brown Sugar
30g Butter
2tbsp Solesta Balsamic Vinegar
1 tsp Salt
1 Red Onion (cut into wedges)
400g Cooked Beetroot (cut into wedges)
1 tbsp Olive Oil
1 x 375g Greenvale Puff Pastry
½ bag of Watercress, Spinich and Rocket
50g Feta (crumbled)
2 tbsps Olive Oil
1 tbsp Balsamic Vinegar
Method
Preheat the oven to 180°C/gas mark 4.
Place the beetroot and red onion, with a drizzle of olive oil, on a baking tray and roast for 30 minutes.
Melt the butter and sugar together, when all the sugar has dissolved add the salt and balsamic vinegar and bring to the boil.
Pour the syrup into a 7-inch cake tin or an oven proof frying pan and the arrange the beetroot and onion on top.
Use a plate slightly larger than the tin to cut a round of puff pastry and place over the beetroot and onion.
Tuck the edges of the pastry into the tin and bake for 30-40 minutes until the pastry is crisp and golden.
Turn the tart out onto a serving plate, serve whilst still warm, and serve with the salad.
Sprinkle the feta over the salad leaves and drizzle over the oil and balsamic vinegar.