Beetroot and Goat's Cheese Salad
Beetroot & Goat's Cheese Salad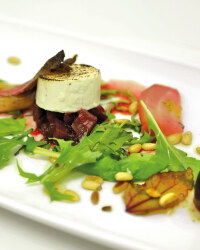 Recipe Information
Ingredients
For the Chutney
750g raw Beetroot (diced up)
½ finger of Ginger grated
Juice of 3 Oranges
Zest of 1 Orange
1 tsp Ground Cinnamon
1 tsp Ground Coriander
500ml Red Wine
400g Caster Sugar
2 tsp Mustard Seeds
2 Small Onions, finely diced
2 Apples, grated
For the roasted beetroot
1 bunch Fresh Beetroot (4 pieces)
4 tbsp of Goose Fat
8 Cloves Garlic
8 Sprigs of Thyme
Salt & Pepper
200g Butter
100g Pine Nuts
Red Wine Vinaigrette
20ml Red Wine Vinegar
1 tsp Dijon Mustard
2 tsp Honey
60 ml Vegetable Oil
1 bag Mixed Salad
1 Goat's Cheese Log
Method
For the Chutney
In a large pot over a medium to high heat, combine all the chutney ingredients. Reduce until beetroot is cooked and the chutney has a jam like consistency. Approx 1 hour. (This can be made ahead of time and stored in a sterilised container in the fridge, just remove for 40 minutes prior to serving to allow it to reach room temperature).
For the roast beetroot
Preheat the oven to 170°C/150 °C Fan/Gas Mark 3
Tear off 4 squares of tin foil (enough to wrap a large beetroot well).
Place one raw, unpeeled beetroot on a piece of tin foil. Now add 1 clove of garlic, 2 sprigs of thyme, season and add 1 spoonful of goose fat. Wrap it up tight and repeat with the remaining 3 large beetroots. Place on a baking tray bake in the preheated oven for 45-55 minutes. The beetroot is done when a cocktail stick goes through with just a little resistance. When the roasted beets are cooked, remove from the foil, cool a little then remove the skin and cut into quarters.
In a dry non-stick pan over a high heat add the pine nuts. Keep tossing every few seconds and continue until they are golden and roasted. Remove from the pan to stop them cooking and set aside.
To make the vinaigrette, put all the ingredients in a bowl and whisk to combine.
To serve
Place your mixed leaves on the plate, along with wedges of roasted beetroot, slices of goat's cheese and drizzle with red wine vinaigrette and sprinkle of toasted pine nuts.