Beautifully crisp and delectable. Beware. These beer - battered onion rings are addictive.
Beer-Battered Onion Rings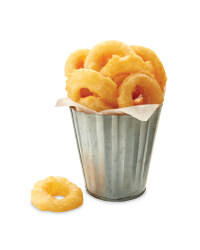 Recipe Information
Ingredients
150g The Pantry Plain Flour
230ml Bah Humbug Ale
1 tsp The Pantry Baking Powder
1 tsp Stonemill Paprika
½ tsp Salt
3 large Onions
Solesta Sunflower Oil
A little extra flour for dusting
Method
Half fill a medium saucepan with oil, or use a deep fat fryer.
Mix the flour, paprika, baking powder and salt together in a large mixing bowl.
Make a well in the centre and pour in the ale, using a balloon whisk to blend and whisk into a smooth batter.
Peel the onions and cut into thick slices, then separate the rings.
Sprinkle over a little flour just to coat.
Heat the oil to 180°C.
Dip the onion rings into the batter – about 5 or 6 at a time, then deep fry for 2-3 minutes until the batter is golden brown.