Beef Burger Pittas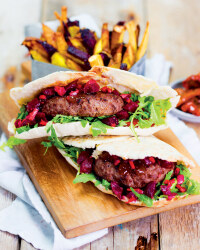 Recipe Information
Ingredients
500g Irish Beef Mince
4 Pitta Breads
1 small Onion, finely diced
2 tsp Tomato Purée
1 clove Garlic, crushed
1 tsp Smoked Paprika
1 tsp Cumin
1 Egg
Salt and Pepper
1 Iceberg Lettuce
2 Tomatoes, sliced
1 Red Onion, sliced
1 jar Roasted Red Peppers, drained and rinsed
For the Ketchup
Irish Mayonnaise
2 Beetroots (300g)
4 Sweet Potatoes (600g)
4 Carrots (400g)
2 tbsp Rapeseed Oil
2 tsp Thyme
2 tsp Rosemary
Method
To make the rainbow fries – pre-heat the oven to 170°C/325°F/Gas Mark 3.
Cut the beetroots, sweet potatoes and carrots into chip shapes or wedges.
In a bowl, mix the slices of root veg with 1 tbsp of oil, 2 tsp of rosemary and 2 tsp of thyme. Toss to coat. Arrange the veg on a baking sheet in a single layer, and bake for 15 minutes. Turn and bake for another 15 minutes until crispy.
While the rainbow fries are cooking, make the burgers. In a frying pan, gently fry the onion and garlic for 5-6 minutes. Add the paprika and cumin. Put aside to cool.
Place the mince in a large mixing bowl. Add the onion mixture,egg, tomato purée and seasoning. Mix well.
Divide the mixture into portions. Using wet hands, roll each part into tennis ball sized patties and flatten into beef burger shapes with your hand. Grill until cooked through.
Place each burger in a pitta with lettuce, red onion, peppers, tomato, ketchup and a little mayonnaise. Serve with your fries!