The perfect beef stir fry in just 10 minutes.
Beef Black Bean Stir Fry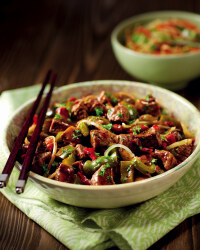 Recipe Information
Ingredients
325g Stir Fry Beef Strips
300g Carrots, sliced into thin strips
1 Red Onion, cut into half-moon strips
400g Courgettes cut into thin strips
1 Red Pepper, deseeded and thinly sliced
300g Cooked Rice Noodles
100ml Black Bean Sauce
1 tbsp Ginger, grated
1 tbsp Garlic, crushed
60ml Soy Sauce
1 tbsp Groundnut Oil
Method
Add the oil to a hot wok.
Add the carrots, courgettes and peppers, stirring frequently.
Stir fry for 2 minutes.
Add 100ml boiling water.
Add the ginger, garlic, beef, onion and black bean sauce.
Stir and cook for 2 minutes.
If the wok gets too dry you can add some water as needed.
When vegetables and beef are cooked stir in cooked noodles.
Cook the noodles for 3 minutes.
Serve