Give the gift of delicious homemade vegan chutney this Christmas with easy-to-find ingredients – onion, chilli, garlic and balsamic vinegar.
Balsamic Onion Chutney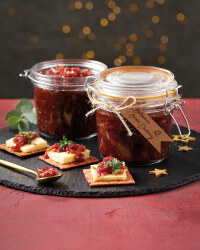 Recipe Information
Ingredients
6 Red Onions, finely chopped
1 Red Chilli, finely chopped
6 Garlic Cloves, finely chopped
150g Demerara Sugar
100ml Balsamic Vinegar
10g Salt
30ml Olive Oil
Method
Heat the oil in a pan. Sweat the onions and salt until translucent. Add the garlic and chilli and cook for a further 2 minutes.
Increase the temperature to a medium/high heat. Add the sugar, stirring to prevent it from sticking to the pan.
When the mixture begins to bubble, add the balsamic vinegar and reduce to a thick, sticky chutney.
Remove the pan from the heat and transfer the chutney to a sterilised jar.
Seal and store in a cool, dark place for up to 6 months.