Luxuriously indulgent chocolate desserts. Perfect for dinner parties.
Ballycastle and Dark Chocolate Mousse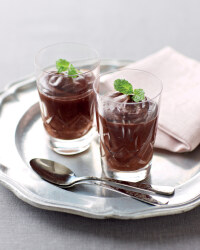 Recipe Information
Ingredients
100g Dark Chocolate 70% Cocoa
1 Large Egg
25g Caster Sugar
30ml Irish Cream Liqueur
30ml Double Cream
Sprigs of mint to serve
Method
Break up the chocolate and put in a ovenproof dish, put the dish over a pan of boiling water and melt the chocolate - allow to cool slightly.
Meanwhile separate the yolk from the egg white - put the yolk in a small bowl with the Ballycastle and the cream - whisk well.
Put the egg white in a separate bowl, whisk till the egg white is softly peaked, slowly whisk in the caster sugar till it becomes glossy and thick.
Add the previously prepared egg yolk and Ballycastle mixture to the melted chocolate.
Then fold the egg white mixture in, a spoonful at a time.
Spoon the mixture into two small glasses and refrigerate - decorate with some fresh mint as you serve.