Beautifully baked sea bass served in a thyme and citrus zest.
Baked Sea Bass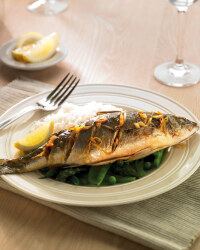 Recipe Information
Ingredients
1 pack Whole Sea Bass (frozen)
200ml White Wine
60ml White Wine Vinegar
10 sprigs fresh Thyme
2 cloves Garlic, thinly sliced
50g Butter
1 tsp Lime zest
1 tsp Orange zest
1 tsp Lemon zest
1 clove Garlic, finely chopped
1 tbs Thyme, finely chopped
Method
Lay the Sea Bass in baking dish and add wine, vinegar,
30g butter, thyme sprigs and sliced garlic.
Bake in an oven at 200°C for about 40 minutes until the fish is piping hot.
Meanwhile, combine the 3 citrus zests and the remaining thyme and garlic in a saucepan with 1 tsp of butter.
Heat gently for 1 minute.
Remove the fish from the oven and keep warm.
Strain the fish cooking liquid through a sieve and add to the saucepan.
Add 1 small knob of butter and pour over the fish.
Serve with steamed green vegetables and boiled rice.