Succulent pork roasted with juicy pears.
Baked Pork Steaks, Pears & Blue Cheese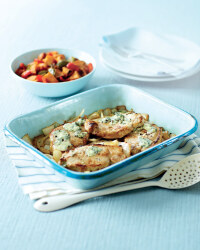 Recipe Information
Ingredients
4 Pork Loin Steaks
3 Funsize Pears
1 Mild Onion
2 Peppers (any colour)
600g Sweet Potatoes
100g Danish Blue Cheese
1 x teaspoonDried Thyme
Salt and Black Pepper
Sunflower Oil
Method
Preheat the oven to 200oC/400?o/Gas Mark 6
Cut the onion in half, discard the skin and slice thickly.
In a large frying pan brown the pork steaks in a little oil.
Transfer to a roasting tray.
Quickly fry the onions in the same pan to brown them.
Put the onions around the pork steaks, season with a little salt, black pepper and the dried thyme.
Cook in the oven for 15 minutes.
Meanwhile cut the pears into quarters and remove the pips, add these to the roasting dish and cook another 10 minutes.
Peel the sweet potatoes and cut into 2cm chunks, cut the peppers into the same size, discard any pith or seeds.
Sauté them in a little oil in the frying pan for about 10 minutes until browned and cooked through.
Crumble the Danish blue cheese over the pork steaks in the roasting dish and return to the oven for 5 minutes to melt.
Serve the sweet potato sauté alongside the baked pork steaks.