A delightful and healthy dessert for you and the family to share after your Sunday roast.
Baked Nectarines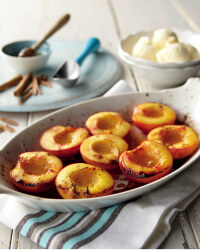 Recipe Information
Ingredients
4 Ripe Nectarines
50g Honey
Half tsp Cinnamon
Vanilla Soft Scoop Ice Cream/Greek Yoghurt to serve.
Method
Preheat the oven to 200°C/400°F/Gas Mark 6.
Cut the nectarines in half and remove the stone using a teaspoon.
Place them into a foil lined baking dish.
Pour the honey into the holes left by the stones.
Sprinkle with cinnamon.
Bake in the oven for 20 minutes.
Serve warm with ice cream or yoghurt.
Alternatively serve cold with yoghurt and granola for breakfast.