Decadent and warming gourmet snack. Perfect for starters or sharing.
Baked Goat's Cheese with Rhubarb Relish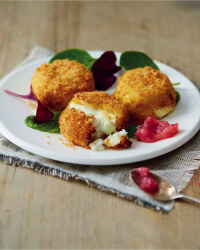 Recipe Information
Ingredients
1 tbsp Red Onion, finely chopped
1 tbsp Solesta Sunflower Oil
2 tbsp Vinegar
2 tbsp Water
2 tbsp The Pantry Brown Sugar
250g Rhubarb, washed and chopped into small pieces
Cheese 2 logs The Cheese Emporium Goat's Cheese
1 Egg, beaten Breadcrumbs made from 2 large slices of Bread
Freshly ground Salt and Black Pepper
Green Leaves to serve
Method
Pre-heat oven to 200°C/Fan 180°C/Gas Mark 6.
Heat the oil in a saucepan and gently cook the onion for 2 minutes until soft but not browned.
Add the vinegar, water and sugar and stir until the sugar is dissolved.
Add the rhubarb, cover the pan and simmer for around 20 minutes until the rhubarb is soft.
Season to taste, allow to cool.
Cut the cheeses into thick discs and dip each into first the beaten egg and then into breadcrumbs.
Place crumbed discs onto a non-stick baking sheet.
Bake in a pre-heated oven for around 15 minutes.
Serve the warm goats cheese with green leaves and the rhubarb relish on the side.