Enjoy this healthy fruity snack recipe taken from RTE's Operation Transformation
Baked Berry Square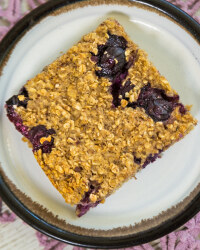 Recipe Information
Ingredients
235g Porridge Oats
20g Brown Sugar
15g ground Flaxseed
1 ½ tsp Baking Powder (7.5g)
1 ½ ground Cinnamon
¼ tsp Salt (1.25g)
1 Egg
130g Apple Compote
240ml Low Fat Milk (1.5% fat)
1 tsp Vanilla Extract (5g)
90g Blueberries
Method
Preheat the oven to 160C / 325F / gas mark 3.
Line a 22.5cm x 32.5cm baking tin with parchment paper.
Place the oats in a large bowl with the sugar, flaxseed, baking powder, cinnamon and salt. Using a wooden spoon, stir until evenly mixed.
Put the egg, apple compote, vanilla extract and milk in a jug and beat with a fork to combine.
Make a well in the centre of the oat mixture and then pour in the egg mixture. Then using as few stirs as possible mix everything together. The more you mix it the tougher the mixture will become. Finally fold in the blueberries.
Place in the oven and bake for 25-30 minutes until all the liquid is absorbed and the oats are tender and lightly golden. To test, insert a skewer or toothpick into the centre of a square and it should come out clean. The square will also be springy to the touch. Leave to cool completely in the tin and then cut into 12 even-sized squares.
Arrange a bake berry square on a plate with a piece of fruit to serve.
This can be kept wrapped in the parchment paper and another layer of tin foil for up to 2 days, or it can be frozen in slices in a suitable airtight container for up to 1 month.