Asian style broth with thin noodles, shredded turkey and fresh veg.
Asian Style Shredded Turkey Broth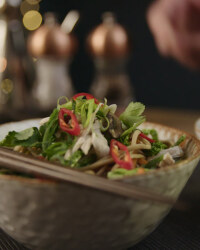 Recipe Information
Ingredients
700ml chicken stock (or boil the turkey bones with carrots, celery or leek, 1 whole onion and thyme)
2 tsp rapeseed oil
1 tsp ginger
1 tsp honey or brown sugar
1 tsp crushed garlic
1 small chilli
2 tbsp soy sauce
1 tsp white wine vinegar or 1 tsp vinegar and 1 tsp apple juice
1 Green leafy cabbage or bak choi
500g small thin noodles
4 Spring Onions
Cooked turkey breast/strips - shredded (enough for 4 people)
Handfull Coriander
20 thinly sliced mushrooms
2 thinly cut match stick carrots
Method
Add all broth ingredients to a large pan and bring to a simmer for around 10 mins, add the noodles until softened then add shredded turkey, shredded cabbage along with carrots and mushrooms (cook for 2-3 minutes).
To serve, add a good mixture of ingredients to a deep bowl and dress similar to a ramen bowl.
Top with diagonal sliced spring onion and coriander.