A gluten free, sweet and crunchy stuffing.
Apple & walnut Stuffing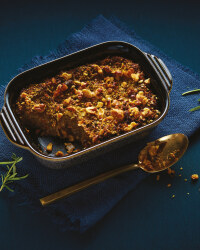 Recipe Information
Ingredients
1 large Baking Apple
50g Walnuts, finely chopped
1 Onion, finely chopped
1 Celery Stick, finely chopped
2 Cloves of Garlic
1 Vegetable Stock Cube
120ml Boiling Water
100ml Apple Juice
200g Milled Linseed
1 tsp Dried Thyme or Sage
20ml Olive Oil
Sea Salt and Black Pepper
Method
Pre-heat the oven to 180°C/350°F/Gas Mark 4.
Dissolve the stock cube in the boiling water.
Peel and mince the garlic.
Peel and core the apple, then finely chop the flesh.
In a large frying pan, sauté the onion and celery in the olive oil, until just softened.
Add the linseed, garlic, diced apple, dried herbs, stock and apple juice, slowly mixing until thickened.
Add the walnuts and seasoning to the stuffing and mix well.
Transfer to a baking dish and cook for 30 minutes until browned.