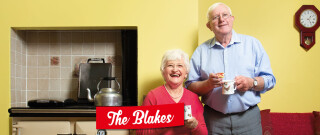 Meet the Blakes
Married couple Joan and John live active lives and enjoy their hobbies like choir and fitness classes. They enjoy looking after the Grandchildren and making healthy home cooked food.
Our Story…
The Blakes were amazed by the quality of the lean fresh meat and delighted by the range of gluten free products.
Meet the other families…
Let us introduce you to our families. Read their stories and hear about all their favourite products, recipes and tasty surprises. Does saving feel amazing? Let's find out.