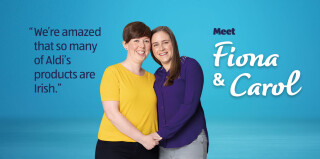 Meet Fiona & Carol
Fiona and Carol got married in Rome last year and enjoy spending their time together hiking, going to the cinema and doing yoga. Fiona works in a bank and Carol is a scientist, and they are both looking to save for holidays away.
Our Story...
Fiona & Carol were amazed that so many Aldi products were Irish and were truly happy with the savings they made. They believed that their shopping experience at Aldi really changed their views on shopping in general, and admitted they wouldn't go back to their old ways. Here's a few of their highlights….
Shopping before switching to Aldi took place between 29/04/19 to 26/05/19 and in Aldi took place between 27/05/19 to 23/06/19.
Meet the other families…
Let us introduce you to our families. Read their stories and hear about all their favourite products, recipes and tasty surprises.
Participants received a gratuity. For shopping dates please click here.