The perfect meal to fill your appetite. Use up all of your vegtables with this one.
All in one Vegetarian Pasta Bake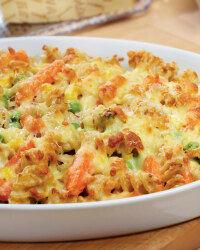 Recipe Information
Ingredients
200g whole wheat fusilli
1kg frozen mixed vegetables (carrot, garden peas, green beans, sweet corn)
100g Parmesan cheese, finely grated
100g low fat cheddar cheese, grated
15g butter
2tbsp of white flour
300ml low fat milk
1/2tsp salt
Black pepper
Low calorie spray oil (optional)
Method
Pre-heat your oven to 200°C.
Boil the pasta in a large pot in at least 2L of water.
While pasta is cooking melt the butter in a saucepan over a low heat.
Add the flour and stir, making sure the flour gets absorbed by the butter.
Slowly pour the milk over flour & butter mixture, stirring constantly to create a smooth sauce.
Sprinkle the salt and black pepper over and add half the parmesan and half the cheddar.
Stir well and set aside.
When the pasta has been cooking for 5 minutes add the frozen vegetable mixture to the pot.
Cook for a further 7 minutes until pasta is cooked al dente. Drain the pasta and vegetables and return to the pot.
Add the white sauce and mix. Spray oil into a baking dish and spoon the pasta mixture in it.
Sprinkle with the remaining cheese and place in preheated oven for 10-15 minutes until the top is golden brown and slightly crispy.