A perfect salsa to partner a sirloin steak
Molho a Campanha Salsa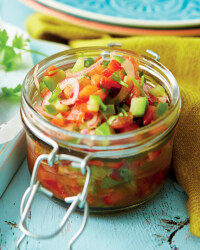 Recipe Information
Ingredients
50ml Vinegar
20ml Red Wine
4 x tbsp Olive Oil
2 x Large Tomatoes
2 x Green Peppers
2 x Red Peppers
2 x large Red Onions
8 x tbsp of Flat Leaf
Parsley (or Coriander)
Pinch Salt and Black Pepper
Method
Lightly score the sides of the tomatoes and start to char the skin with the gas flame. Or you can add into boiling water, as the skin starts to blacken. Plunge these straight into iced cold water – the skin should now come off the tomatoes easily.

Chop the tomatoes into quarters and then finely slice into small 1cm pieces and add to a mixing bowl. Finely chop and deseed the peppers and add to the mix, the red onion can be finely sliced and added also.

Pour over the red wine, vinegar, olive oil and season with the salt and pepper.

Finally, roughly chop your parsley or coriander and mix into the ingredients.

Serve the steak with a generous helping of your Molho à Campanha.