Turducken' stuffed with Herb, Lemon & Pine Nut Stuffing
'Turducken' with Pine Nut Stuffing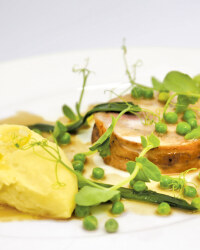 Recipe Information
Ingredients
1 Whole Turkey Crown
2 Duck Breast, skin removed
2 Chicken Breasts, skin off
250g Pork Mince
100g Pine Nuts, toasted
25g Parsley, chopped
25g Sage, chopped
6 Rooster Potatoes, peeled, boiled & mashed
1 small Onion, peeled & diced
100ml Cream
50ml Milk
100g Butter, diced
4 Leeks, trimmed & sliced
200g Peas
Butcher's string
Method
Preheat the oven to 180°C/Fan 160°C/Gas Mark 4.
Carefully take the skin off the turkey keeping it in one piece and set aside.
Remove the breasts from the crown. You will only need one turkey breast for this.
Keep the bones for the sauce. Chop the bones and spread on a roasting tray.
Place in pre-heated oven for 20 minutes or until the bones are golden. Take out of the oven and transfer to a saucepan.
Sprinkle with a little flour and cover with water. Bring to the boil over a medium heat making sure you stir to release the entire flavor.
Reduce to your desired thickness of a sauce. Remove from the heat and carefully strain before serving.
Meanwhile, butterfly the turkey breast by starting with the narrowest end of the meat and cutting the breast halfway through the thickness of the meat creating two equally thick layers of turkey. Do not cut all the way through the meat, but stop when there is still about 3/4 of an inch of meat remaining. You should be able to open the turkey breast out to one piece. Then flatten it out with a rolling pin until it has an even thickness. Do the same for the chicken breasts.
For the stuffing
Mix the pork mince, herbs and pine nuts together and season with salt & pepper.
Lay the turkey skin on a flat surface. Place the turkey breast on top & season with salt & pepper. Next lay an even layer of the pork stuffing on top.
Then lay the two butterflied chicken breasts on top, season with salt & pepper. Then place the two duck breasts in the middle, this makes our 'turducken'
Using your hands roll the 'turducken' up into a Swiss roll like shape making sure the skin is on the outside.
Tie this with butcher string to secure the meat and form a sausage shape.
Heat oil in a large pan. Add the Turducken and brown on all sides.
Carefully move to a roasting dish & cover with tin foil.
Turn the oven down to 160°C and cook your Turducken for 2 ½ hours or until the juices run clear.
For the side dishes
To cook the leeks & peas, place in a sauce pan with a little water and a knob of butter and cook gently on a low heat until tender. Season to taste.
For the mash potatoes
In a pan add the mash and then warm cream & milk. Heat gently, add the butter and onions and season to taste.
Serve the turducken with the mash, vegetables and gravy on the side.