This is a quick and tasty dinner, perfect for anybody running a little short of time!
"What's in the Fridge Dinner"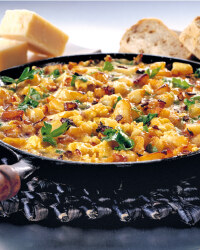 Recipe Information
Ingredients
8 Large Fresh Healy's Farm Eggs beaten with 2 tbsp of freshly grated Low Fat Cheddar Cheese
1½ tbsp Olive Oil
4-6 Potatoes, peeled and diced
1 Onion, finely chopped
2 Cloves of Garlic, chopped
A little Salt and Freshly Ground Black Pepper
Chopped Parsley
Method
Heat the oil in a non-stick pan and cook the potatoes for 8-10 minutes until nearly cooked and beginning to brown.
Add the onion and continue to cook until the onion is just golden and then add the garlic.
When the potatoes are just cooked, season the egg mixture and add to the potatoes.
Stir well and allow the eggs to cook on the base.
Place a plate over the pan, carefully turn the omelette onto the plate, then slide back into the pan to cook the other side.
To serve, sprinkle with parsley and cut into wedges.
Tip:
You can add other ingredients, whatever is available like chopped bacon, scallions, tomatoes, mushrooms. The Italians like to add courgettes. You can of course use up cooked potatoes but the flavour is much better if you start out with uncooked potatoes.