Everyone loves their mummy and these crazy banana creations will be no exception!
Yummy Mummy Chocolate Bananas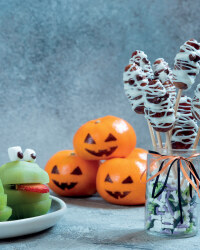 Recipe Information
Ingredients
3 Bananas
200g Dark Chocolate
25ml Sunflower Oil
85g White Mini Marshmallows
6 Cake Pop Sticks or Wooden Lollypop Sticks
Method
Peel the bananas, cut them into two or three pieces depending on size and insert a stick into the cut edge.
Place on a baking sheet lined with non-stick paper and freeze for 40 minutes.
Break up the chocolate and put into a heatproof bowl along with the oil.
Melt over a pan of simmering water, making sure the bottom of the bowl doesn't touch the water.
With a cocktail stick, put a spot of the chocolate on 12 of the mini marshmallows to make the eyes.
Dip the bananas into the chocolate to coat and use a spoon to pour over.
Put back on the lined tray, put the marshmallow eyes onto the bananas and freeze for 15 minutes.
Melt the rest of the marshmallows in the microwave for about 25 seconds.
Take the bananas out of the freezer and, using a fork or kebab stick, wrap the stringy melted marshmallows around the banana to make the bandages.