Colour, texture and flavour. This Vegetable Stuffing recipe is set to please everyone.
Vegetable Stuffing Recipe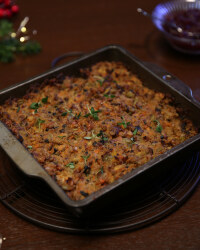 Recipe Information
Ingredients
4 slices of White Bread
60g Butter
1 Red Onion
1 Celery Stick
130g Carrots, grated
130g Mushrooms
40g Walnuts
2 cloves of Garlic
1 tsp Dried Thyme
1 Vegetable Stock Cube
150ml boiling Water
Method
Pre-heat the oven to 200°C/400°F/Gas Mark 6.
Make breadcrumbs from the bread in a food processor.
Peel the onion and finely chop, along with the celery, mushrooms and walnuts.
Peel and mince the garlic.
Melt the butter in a saucepan, add the onions and celery and cook for a few minutes.
Add the mushrooms, garlic and carrots and cook until softened.
Add the walnuts, breadcrumbs and thyme.
Dissolve the stock cube in the boiling water, pour over the stuffing and mix well.
Transfer the stuffing to an ovenproof dish and bake for 20 minutes.