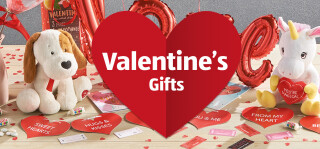 Amazing gifts at prices you'll love
From me to you. Find the perfect gift for your partner with our amazing Valentine's Day range, with perfumes, candles, pyjamas and cuddly toys for him and her. All at amazing Aldi prices, so your pocket will love them too.
A toast to love
Great ways to help celebrate the day. A perfect gift presented in a beautiful gift box.
The perfect recipes for romance
Looking for a little inspiration to make your Valentine's Day even more special? You've come to the right place! We've got a whole range of amazing recipes to choose from to help you impress your loved ones.