This jaw-droppingly decadent Easter-themed cake beats any Easter egg!
Ultimate Chocolate Cake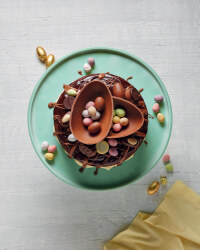 Recipe Information
Ingredients
125g Plain Flour
125g Caster Sugar
125g Greenvale Perfect for Baking – chopped into small cubes
3 x medium eggs
125g Dairyfine Dark Chocolate
300ml Double cream
100g Choceur White Chocolate
50g Dairyfine Milk Chocolate
50g Choceur Belgian Dark Chocolate
20g Greenvale Unsalted Butter
2 x 20cm low cake tins.
Method
Preheat the oven to 180˚C/350˚F/Gas Mark 4.
Line the base of the cake tins with greaseproof paper and lightly grease the sides.
Break up the Dairyfine dark chocolate and put in a small saucepan with the Perfect for Baking and melt over a gentle heat.
Separate the eggs and beat the egg whites with a pinch of salt and a teaspoon of caster sugar until they are stiff.
In a separate bowl whisk the egg yolks with the caster sugar until pale.
Fold in the flour and then gently stir in the melted chocolate mixture.
Divide between the two tins then bake for 15 minutes until firm to the touch.
Allow to cool then remove from the tins.
Break up the white chocolate, put in a heatproof bowl and put over a pan of simmering water to melt the chocolate, making sure the base does not touch the water.
Whip 200ml of the double cream.
When the white chocolate has melted, mix in with the whipped cream then put in the fridge to cool and set.
When firmer, spread on the top of one of the cakes then put the other cake on top.
Now melt the dark Belgian chocolate along with the unsalted butter and 50ml cream over a pan of simmering water, again making sure the bottom of the bowl does not touch the water.
When melted spread over the top of the cake, this hasn't got to be neat, some swirls are good.
Then melt the milk chocolate and 50ml cream as above, when melted drizzle over the top of the dark chocolate.
Allow to set then serve.