Watch your guests dive in when you pass these around – our Turkey burgers are made to disappear!
Turkey Burgers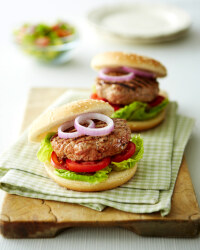 Recipe Information
Ingredients
1 Pack Specially Selected Irish Turkey Mince
Specially Selected Tomato Irish Country Relish
Irish Mayonnaise
Giant Soft White Baps, toasted
1 Iceberg lettuce
1 Tomato, cut into thin slices
1 Egg white, lightly beaten
1 Onion, ¼ diced and ½ sliced
½ Garlic Clove, crushed
Sea Salt & Black Pepper
Method
Place the turkey mince into a large mixing bowl and add the beaten egg white, diced onion, crushed garlic clove and a pinch of sea salt and black pepper. Blend together until the mixture is evenly spread and the mince fully coated.
Divide the mixture into four. Take one portion and roll it in your hands to make a ball shape. Leave it in ball form before cooking. Repeat this process for the other two portions.
In a hot pan with a little oil, add the ball of mince and with a spatula push the ball flat onto the pan to give the burger shape. Season with salt and leave for 4-5 minutes, then turn and repeat the process.
Prepare tomato, lettuce and toast the bap.
Dress the toasted bap with mayo and country relish.
Put the lettuce on the bottom side of the bap, and then add the burger, top with sliced tomato and finish with the top of the bap.