Deliciously moist and sticky. Fall in love with The Pantry Christmas Cake.
The Pantry Christmas Cake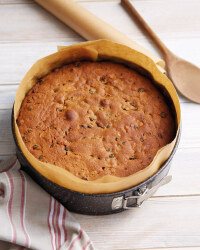 Recipe Information
Ingredients
4 x medium eggs
200g Greenvale unsalted butter – at room temperature
100g The Pantry caster sugar
100g Soft Brown Sugar
300g The Pantry plain flour
1 x teaspoon The Pantry baking powder
1 x teaspoon The Pantry bicarb of soda
415g The Pantry mixed dried fruit
50g The Pantry walnuts pieces
50g The Pantry slivered almonds
120g The Pantry glace cherries
1 x small orange
1 x teaspoon Stonemills mixed spice
½ teaspoon Stonemills cinnamon
160ml Napoleon Brandy
1 x 18cm spring form cake tin
Non-stick parchment
Method
Preheat the oven 150°C/130°C Fan/Gas Mark 2
1. Put the mixed dried fruit, almonds, walnuts and glace cherries in a bowl and mix well
2. Grate the rind from the orange and add to the fruit mix
3. Juice the orange and add this and 80ml brandy to the fruit and mix well
4. Line the base of the cake tin with some baking parchment
5. Using a double thickness of parchment, line the inside of the cake tin, making sure that it stands about 4cm higher than the side
6. Cream the butter with the caster and brown sugar, till light and fluffy
7. Beat the eggs in one at a time, add a little flour if it starts to curdle
8. Mix the baking powder, mixed spice, cinnamon and bicarb into the plain flour
9. Gradually add this flour mix to the egg mix until smooth
10. Then fold in the fruit and nut mix
11. Spoon the cake mix carefully into the prepared tin – and smooth the top
12. Cook for about 2.5 hours – the top should be lightly cracked, browned and firm
13. Test with a wooden skewer - it will be slightly damp when removed
14. Pierce the top of the cake with a wooden skewer and slowly spoon over the rest of the Brandy
15. Allow to cool in the tin
16. When cold, carefully remove the cake from the tin
17. Wrap tightly in cling film and then in tin foil, store in a cool dark place - the cake will mature and improve over the next few months.