Fun afternoon tea sandwiches stacked with a selection of toppings.
Tea Pop Sandwiches - The Italian One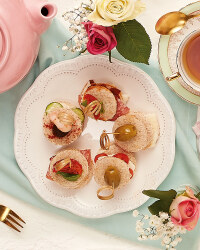 Recipe Information
Ingredients
6 x slices White or Wholemeal Bread
20g Red Pesto
6 x slices of each Pepperoni and Mozzarella
6 x Basil Leaves
6 x Marinated Tomato Slices with Garlic and Oregano
6 x Coctail Sticks
1 x 6mm Pastry Cutter
Method
Cut 3 rounds from a slice of bread with the pastry cutter.
Spread the tops with a little pesto.
Start with a round of bread, top with a slice of mozzarella, then another round of bread, then a slice of pepperoni, then top with the last round of bread, basil leaf and a marinated tomato pierced with a cocktail stick.
Other Tea Pop Sandwiches recipes:
Tea Pop Sandwiches - The Greek One