This heavenly pie will not disappoint. Beautifully sweet with Tangerines and cranberries.
Tangerine & Cranberry Meringue Pie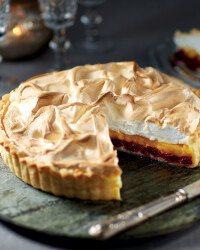 Recipe Information
Ingredients
10 Tangerines
100g Cranberry Sauce
1 x 375g Ready Rolled Shortcrust Pastry
70g Cornflour
70g Butter
70g Granulated Sugar
3 x Large Eggs
150g Caster Sugar
Method
Pre-heat the oven 190°C/375°F/Gas Mark 5
Unroll the pastry and line the tin with it.
Prick the pastry with a fork and line with some crumpled tin foil.
Bake blind for 7 minutes then remove the tin foil and bake for another 5 minutes.
Meanwhile, grate the rind from 3 tangerines and squeeze the juice from all 10 – you need 450ml.
In a bowl whisk the cornflour with the tangerine juice.
Transfer to a saucepan, add the tangerine zest and granulated sugar and slowly bring to the boil, whisking as you do.
Then take off the heat and add the butter, stir until melted.
Separate the eggs and add the egg yolks to the mix.
Put back onto a low heat for 2 minutes, stirring as you cook.
Spread the cranberry sauce over the base of the pastry.
Whisk the egg whites until they start to hold their shape and gradually whisk in the caster sugar until the meringue is white and glossy.
Pour the tangerine curd into the pastry case and spoon the meringue on top. Bake in the oven for 15 minutes.>p>
Allow the pie to cool before cutting.