Swiss Roll Sundae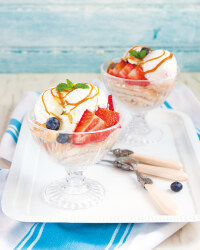 Recipe Information
Ingredients
6 slices of Swiss Roll
250ml Double Cream
4 scoops of Ice Cream
2 fresh Strawberries, sliced
A handful of Blueberries
A handful of Flaked Almonds
A few leaves of fresh Mint
Salted Caramel Sauce
Method
Add two slices of Swiss Roll into each of your deep and wide sundae dishes. Cut another two Swiss Roll slices in half and divide those between your dishes, so that the bottom is completely covered with Swiss Roll.
Whip the double cream until thick. Add a dollop of the cream on top of each Swiss Roll sundae. Add two scoops of ice cream to each sundae – we like vanilla and raspberry ripple.
Top with some sliced strawberries and blueberries, a sprinkling of flaked almonds and some fresh mint.
Finish with a drizzling of salted caramel sauce