The perfect fruity tart to enjoy in the summer. This classic Bakewell Tart will have you reaching for seconds.
Summer Fruits Bakewell Tart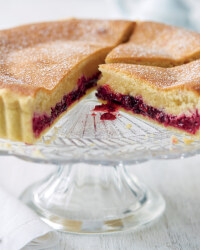 Recipe Information
Ingredients
1 x 375g sheet Ready Rolled Shortcrust Pastry
1 x 500g pack Frozen Summer Fruits
150g Ground Almond
50g Self Raising Flour
130g Caster Sugar
95g Unsalted Butter, softened
2 Large Eggs
1 x 22cm loose base tin
Method
Pre-heat the oven to 180°C/350°F/Gas Mark 4
Defrost the Summer fruits.
Line the tin with the pastry and trim.
Put some crumpled tin foil in the tin and bake blind for 5 minutes, gently remove the foil and put back in the oven to dry the base.
Put the ground almonds, flour, caster sugar, butter and eggs in a food processor and blend until smooth.
Drain the fruits well in a sieve to remove any liquid.
Put the fruits in the bottom of the pastry case.
Top with the frangipane mixture.
Bake in the oven for about 35 minutes until golden and just firm to the touch.
Serve warm with some custard or cream, or cold, dusted with icing sugar.