Simple stuffing roulade made with sausage meat, stuffing mix and British bacon.
Stuffing Roulade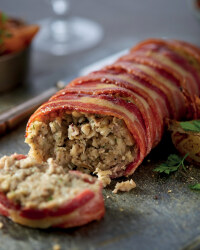 Recipe Information
Ingredients
150g Sausage Meat, or use sausages – slit the skin, and use the meat
100g Sage and Onion Stuffing Mix
8 slices Specially Selected Bacon
Method
Pre-heat the oven to 190°C/375°F/Gas Mark 5.
Make up the stuffing mix as per directions on the pack.
Whilst still warm, mix in the sausage meat and stir well.
Allow to cool and firm up.
Put the bacon rashers all lined up to each other on a board.
Roll the stuffing into a log shape about 18cm long.
Put this on top of the bacon and roll the rashers around it.
Put onto a roasting tray and cook in the oven for 40 minutes.
Then cut into slices and serve with roast turkey or pork.