A traditional and deliciously moist dessert, perfectly paired with custard or ice cream.
Sticky Toffee Pudding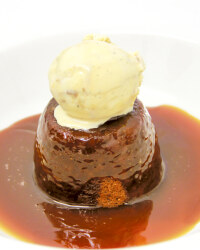 Recipe Information
Ingredients
250g Raisins
100ml Water
1 tsp Bicarbonate of Soda
60g Butter, softened
175g Brown Sugar
2 Eggs
200g Flour
1 tsp Baking Powder
For the sauce
200g Caster Sugar
200g Unsalted Butter
200ml Cream
Method
Put the raisins in a bowl, cover them with the water and sprinkle over the teaspoon of bicarbonate of soda. Let the mixture soak and soften for at least 30 minutes.
Put the raisin and water mixture in a pan on the stove and heat until boiling point. Cook the mixture for 5 minutes, stirring occasionally. Let the mixture cool then, using a hand blender, purée it.
Pre-heat the oven to 180°C/160°C Fan/Gas Mark 4.
In another bowl, mix and cream together the butter and brown sugar. Add the eggs and raisin purée and mix. Sieve the flour and baking powder into the wet mixture.
Butter a baking dish approximately 24cm x 24cm. Fill it with the batter and smooth the top.
Put into the oven for 30 minutes, until firm to the touch, and then take out of the oven.
In a pan on the stove add the butter and caster sugar then let it melt. Bring to boiling point whisking continuously, the mixture will start to caramelise. Take it off the heat and carefully add the cream and whisk.
Serve a portion of your baked pudding with the toffee sauce.