This traditional omlette is absolutely packed with tasty fillings. A super satisfying classic.
Spanish Omlette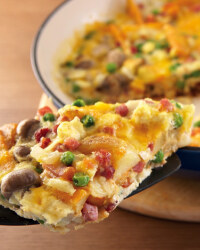 Recipe Information
Ingredients
Olive Oil - 1 tbsp
1x 150g pack Ham Cubes
1x onion - peeled and chopped
1x 6 pack Medium Eggs
50ml Semi Skimmed Milk
Fresh button mushrooms
100g Frozen Garden Peas
1 large cooked potato (or 2 small potatoes)
50g Mature White Cheddar Cheese - grated
Method
In a large frying pan add a tablespoon of olive oil.
Fry the ham cubes and chopped onion for a few minutes.
Break the eggs into a mixing bowl, add the milk, season with salt and pepper then whisk to combine.
Pour the mixture into the frying pan along with the mushrooms, peas and chopped wedges.
Cook on a low heat, moving the mixture around with a wooden spatula until the omelette begins to set.
Sprinkle over the grated cheese and put the pan under a hot grill to cook until set.