Spaghetti Bolognese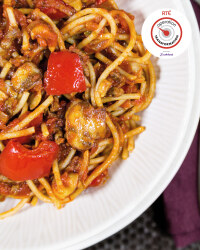 Recipe Information
Ingredients
200g Lean Steak Mince
1 Onion
2 Red Peppers
430g jar Bolognese Sauce (no more than 5g sugar and 3g fat – check the label)
100g Spaghetti
Method
Heat a frying pan over a medium heat, add the mince and cook for about 5 minutes until well browned, breaking up any lumps.
Drain off excess fat. Peel, slice and chop the onion, then cut the red peppers in half, remove the seeds and core, then dice.
Add the peppers and onion to the mince and cook until softened.
Pour the sauce into the mince and season with salt and ground pepper to taste.
Cook for 30 minutes until the peppers are soft and the sauce has reduced and thickened, stirring occasionally to avoid it sticking to the saucepan.
Meanwhile, cook the spaghetti in boiling water with a pinch of salt for 10-12 minutes or according to the packet instructions.
Drain, divide the spaghetti between 2 wide rimmed bowls and spoon the sauce on top.
Prepare ahead
The Bolognese sauce can be made in advance and kept in an airtight container for up to 3 days in the fridge. It also freezes very well for up to one month. Simply defrost thoroughly and either heat up in the microwave or over a gentle heat in a saucepan.
Serve with freshly cooked spaghetti.