Everybody will love this nutritious and delicious Veggie Lasagne.
Slow Cooker Veggie Lasagne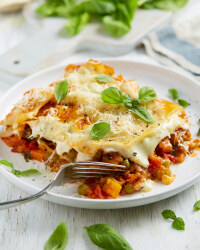 Recipe Information
Ingredients
2 tsp Vegetable Oil
2 Celery Sticks, chopped
4 Carrots, chopped
2 tsp dried Oregano
Small bunch Fresh Basil (optional)
200g Spinach
500g Jar Cucina Tomato and Basil Pasta Sauce
500g pack frozen Brown Lentils with Tahini
6 Lasagne Sheets
500g jar of Cucina Creamy White Sauce
15g Grana Padano Cheese, grated
Black Pepper
Method
Heat the oil in a shallow frying pan and fry the celery and carrots for 5-10 minutes, stirring regularly until softened and just starting to brown.
Add the dried oregano, fresh basil leaves (if using) and spinach and stir until wilted.
Add the tomato and basil pasta sauce and lentils then cook for a further 5 minutes.
Spoon half of the mixture into the slow cooker and top with half of the lasagne sheets, breaking them to fit and cover all of the sauce.
Add the rest of the mixture and then another layer of lasagne sheets.
Pour the jar of creamy sauce onto the pasta and spread with a spatula to cover the whole of the top. Cook for 3 hours.
After 3 hours, turn off and allow to rest for 10 minutes before serving.
Sprinkle with the Grana Padano cheese, a twist of black pepper and, if using, some fresh basil leaves.