This tasty hearty pudding is sure to warm you up. Served with a sweet raspberry sauce.
Slow Baked Rice Pudding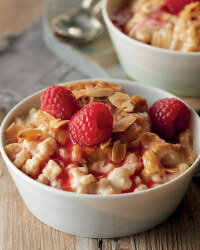 Recipe Information
Ingredients
100g Pudding Rice
410g can Evaporated Milk
568ml Cowbell Whole Milk
40g The Pantry Caster Sugar
½ tsp Stonemill Ground Cinnamon
25g Greenvale Butter Sauce
250g Raspberries
2tbsp The Pantry Caster Sugar
3 tbsp Water
Method
Pre-heat the oven to 150ºC (130ºC Fan)/ Gas Mark 2.
Lightly grease a 1 litre pudding basin or ovenproof dish.
Mix together all the pudding ingredients and transfer to the pudding basin.
Cook in a pre-heated oven for 30 minutes, then carefully remove from the oven, stir and return to the oven for a further 30 minutes.
Stir again then return to the oven for a further hour.
Allow to stand whilst you make the sauce.
To make the sauce, place all the sauce ingredients into a food processor (or use a stick blender) and whizz until smooth.
Sieve to remove the pips.
Serve with the cooked rice pudding.