This Italian-inspired combo of vodka, lemon sorbet and mint leaves is gloriously bright and refreshing.
Sgroppino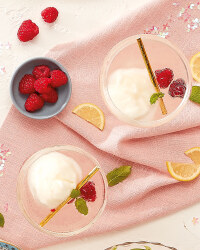 Recipe Information
Ingredients
100ml Vodka
2 x scoops Lemon Sorbet
Juice x ½ Lemon
Costellore Prosecco Frizzante
2 x stalks fresh Mint
Fresh Raspberries
2 x Tall Champagne Glasses
Method
Divide the vodka and the lemon juice between the glasses. Add a scoop of sorbet to each.
Top up with the Prosecco.
Garnish with the mint and some fresh raspberries.