Salted Crème Egg Fudge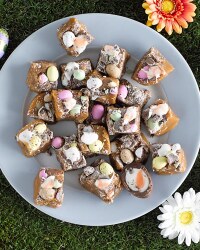 Recipe Information
Ingredients
5 Cadbury Creme Eggs or Eggjoyables
100g pack Mini Chocolate Eggs
200ml Milk 200ml Double Cream
160g Salted Butter, cut into small chunks
700g Granulated Sugar
1 tsp Sea Salt
1 tsp Instant Coffee
Method
Line a 18cm square cake tin with tin foil.
Put the milk, cream, butter, sugar, salt and coffee into a medium saucepan. Slowly heat to melt the sugar and butter then cook for about 20 minutes, if using a sugar thermometer, heat until 115oC.
If you don't have a thermometer, then after 20 minutes the liquid should look thick, bubbly and a nutty brown colour. Test by dropping a small teaspoon into some cold water – if the mixture goes into a soft ball then you are ready.
Remove from the stove and stir gently with a wooden spoon for a couple of minutes. Then, with a handheld electric mixer, beat on a low speed for about 3-5 minutes.
The mixture should thicken up and start to look more matt finish than gloss. Take the tin foil off the creme eggs and gently bash them.
Chop up the mini eggs. Gently fold the eggs into the fudge. Pour into the prepared tin and allow to cool completely. Refrigerate for a few hours.
Cut into chunks and serve.