Salmon, rice and kale wrapped in a golden puff pastry crust.
Salmon en Croute with Braised Kale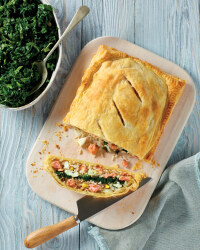 Recipe Information
Ingredients
2 x 110g packs Salmon Flakes
200g Long Grain Rice
1 Egg
100g Spinach, washed
375g Ready Rolled Puff Pastry
2 tsp Sunflower Oil
1 Garlic Clove, crushed
150g Kale, washed
Method
Pre-heat oven to 200°C/Fan 180°C/400°F/Gas Mark 6 and remove the pastry from the refrigerator and allow to stand for 10 minutes before unrolling.
Cook the rice in boiling water until just done, but still firm, and drain.
Hard boil the egg, then shell and chop.
Wilt the spinach in a lidded pan using just the water that remains on the leaves after washing (squeeze any excess water from the spinach).
Stir the salmon flakes into the rice with the chopped hard-boiled egg and some seasoning to taste.
Unroll the pastry, cut into 2 – one piece slightly larger for the lid.
Place the smaller base piece on a lightly oiled baking sheet.
Place half the rice and salmon mixture onto the pastry, leaving a clear border.
Add a layer of spinach and the remaining rice mixture, pressing the mixture down to help hold it together.
Brush the border with a little milk then cover with the remaining pastry.
Use a fork to press down and seal the edges, then make a couple of slashes in the top.
Brush all over with milk then cook in the centre of the oven for around 30 minutes until risen and golden brown.
In the meantime, prepare the kale by heating the oil in a large pan, add the garlic and saute for a few seconds.
Add the kale and cook over a medium heat, stirring occasionally, until just tender.