A bright spring tray bake for the family to enjoy.
Roasted Spring Vegetables with Baked Eggs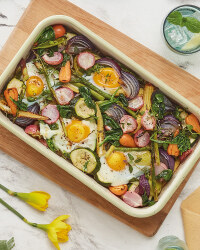 Recipe Information
Ingredients
250g bag Radish
1 x Courgette
3 x Medium Red Onions
145g pack Baby Sweetcorn
1 x Leek
150g Sugar Snap Peas
150g Chantenay Carrots
150g Asparagus Tips
80g Baby Spinach Leaves
1 x Lemon
2 x Cloves Garlic, minced
70ml Olive Oil
Sea Salt and Black Pepper
30g Parmigiano Cheese – finely grated
6 x Medium Eggs
Fresh Basil, Mint and Parsley leaves to decorate
Method
In a bowl mix olive oil with the garlic and the juice of 1 lemon.
Slice the leek and cut the sweetcorn, peas and carrots lengthways.
Slice the courgette and peel the outer leaves from the onions and cut into wedges.
Cut the asparagus in half and cut the radish into halves or quarters.
Put all the above vegetables into a dish and drizzle over olive oil and lemon, ensure to mix well.
Bake in the oven for 15 minutes.
Once cooked, add the spinach leaves and mix through. Make 6 wells in the vegetables and then crack an egg into each space.
Put the tray back in the oven and bake another 10 minutes.
Serve alongside the parmesan cheese and decorate with fresh herbs.