This Red Pepper Nacho Soup has a kick spice lovers will really enjoy!
Roasted Spicy Red Pepper Nacho Soup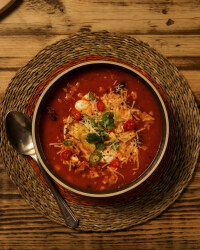 Recipe Information
Ingredients
4 Large Red Peppers (seeds and core removed and cut into chunks)
400g Cocktail Vine Tomatoes
2 Garlic Cloves 1 Onion
½ tsp Ground Cumin
½ tsp Paprika
½ Chilli Flakes 750ml Vegetable Stock
400g Can Red Kidney Beans (drained and rinsed)
180g Sweetcorn (drained)
Toppings:
Grated Cheddar
Crushed Tortilla Chips
Fresh Chilli Sour cream
Method
1. Preheat the oven to 180C.
2. Slice the tomatoes in half and place on a baking tray with the red pepper. Then slice the onion and peel the garlic and add these to the tray.
3. Drizzle over the oil, cumin, paprika, chilli flakes , salt and pepper and mix.
4. Roast for 30-40 minutes until the tomatoes and onions have cooked through and started to colour around the edges.
5. Place the roasted vegetables in a pan with the stock and heat together for 5 minutes.
6. Blitz with a hand blender until smooth and add the rinsed kidney beans and corn to the soup.
7. Warm for another 5-10 minutes until the beans and corn are hot and serve with a dollop of sour cream and a scatter of grated grease, tortilla chips and chilli on top.