Traditional roast beef dinner served with herb mustard Yorkshire puddings.
Roast Beef with Herby Mustard Yorkshire Puddings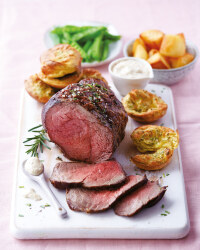 Recipe Information
Ingredients
Beef:
Round Roast Beef Joint - approx 1 kg
2 tbsp Olive oil
1 sprig Rosemary
1 tsp salt
1 tsp pepper
Herby Mustard Yorkshire Puddings:
3 Eggs
150g Plain Flour
240ml Milk
2 tbsp Mustard
1 tsp Salt
2 tbsp freshly chopped herbs (such as parsley, thyme or rosemary)
4 tsp Oil
Method
Pre-heat the oven to 200C/400F/Gas Mark 6.
Rub the oil onto the beef and then sprinkle over the salt, pepper and rosemary and roast the beef for about 60 minutes, for a medium cooked joint.
While the beef is resting heat the oven to 220C/200F/Gas Mark 7.
Crack the eggs into a bowl and beat them with the flour until smooth and then gradually add the milk.
Stir the chopped herbs and salt through the batter and leave to rest while you heat the oil.
Pour the oil evenly into a 12 hole muffin tin and place in the oven for 5-10 minutes until it is really hot.
Pour the batter evenly (and carefully!) into the hot oil and bake for 20 minutes, don't open the oven door while they are cooking.
Serve with roast beef and fresh vegetables.