Baked to perfection, this tart is the perfect pudding. You can even use the left over rhubarb to make the perfect relish.
Rhubard & Almond Tart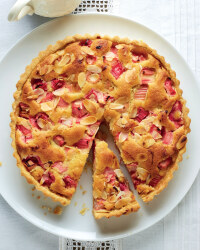 Recipe Information
Ingredients
500g Rhubarb, cut into 2cm pieces
225g Caster Sugar
1 pack of Ready Rolled Pastry
150g Butter, softened
100g Ground Almonds
2 large Eggs
1 tsp Baking Powder
½ tsp Salt
50g Plain Flour
20g Almonds, flaked
Method
Pre heat oven to 180°c/fan160°C/gas mark 4.
Mix the rhubarb with 75g of the sugar and tip onto a baking sheet topped with baking parchment and cook in the oven for around 20mins.
Meanwhile use the pastry to line a 23cm loose-bottomed flan tin.
Trim the edge. Scrunch up a piece of baking parchment and use to line the pastry case.
Add the pastry trimmings back to the case to weigh it down and then bake for 15 minutes.
Remove the paper and trimmings and bake for a further 5 minutes.
Remove the rhubarb from the cooking juices.
Place half of the rhubarb in the base of the case and gently squash with the back of a fork.
Place the remaining sugar, butter, almonds, eggs, baking powder, salt and flour in a mixing bowl a beat until creamy
Spoon the mixture into the pastry case then scatter with flaked almonds.
Bake for 45 minutes or until risen and golden brown. Allow to cool in the tin.
Delicious served with custard.