A deliciously moist dessert, perfectly paired with custard or ice cream.
Rhubarb Crumble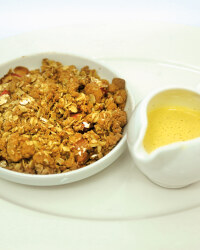 Recipe Information
Ingredients
500g Rhubarb, cut into small chunks
100g Caster Sugar
1 Orange, rind and zest
2 tbsp Corn Flour
For the topping
100g Plain Flour
100g Butter
75g Brown Sugar
100g Jumbo Oats
50g Flaked Almonds
Vanilla Custard or Ice Cream to serve
Method
Preheat your oven to 180 °C/160 °C Fan/Gas Mark 4.
In a bowl mix together the rhubarb, sugar, rind and zest of an orange, stem ginger and corn flour.
Divide the rhubarb mix into 6 mini casserole dishes.
In another bowl rub together the flour, sugar and butter until they resemble breadcrumbs. Then add in the oats and flaked almonds. Sprinkle the topping over the rhubarb.
Bake in a preheated oven for 30 minutes or until the rhubarb is golden brown on top.
Serve your crumble with vanilla custard or ice cream.