A delightfully refreshing fruity meringue.
Rhubarb and Orange Meringue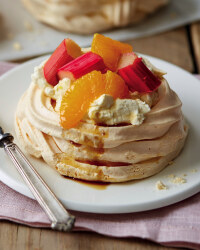 Recipe Information
Ingredients
3 Egg Whites
½ tsp Lemon Juice
150g Caster Sugar
4 sticks Rhubarb, cut into 5cm pieces
3 Oranges
2 tbsp Brown Sugar
300ml Double Cream
Method
Pre-heat oven to 110°C/Fan Oven 90°C/Gas Mark ¼.
Place the egg whites and lemon juice into a clean, grease-free mixing bowl and whisk until double in volume and the mixture holds a peak.
Add the sugar a little at a time whilst continuing to whisk.
Whisk until all the sugar has been added and the mixture is glossy.
Place a square of baking paper onto a large baking sheet and mark out nine 7cm circles.
Using a large piping bag fitted with a star nozzle pipe concentric rings to fill the circles and add another ring around the edge to form the nest. (If you do not have a piping bag and nozzle spoon the mixture into the circles then hollow out nests with the back of the spoon)
Bake for 2 hours until crisp.
Allow to cool completely.
Whilst the meringues are cooling prepare the fruit.
To segment the oranges use a sharp knife to remove the peel and pith from the top and bottom of each fruit.
Stand the oranges on a chopping board and cut downwards to remove the skin and pith from the sides. Turn top to bottom and repeat. Try to remove as much pith as possible without losing too much flesh.
Cut each orange into 4 or 5 slices then halve the slices.
Line 2 baking sheets with foil and heat the grill to medium.
Place the sliced oranges and rhubarb on separate baking sheets and sprinkle with brown sugar.
Grill gently for around 10mins each – keep checking so they do not burn.
Allow to cool.
When everything is cool whip the cream until just holding its shape.
Divide between the nests and top with the fruits.