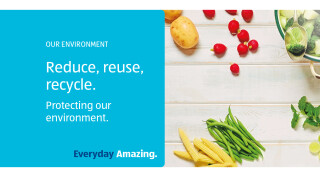 Tackling food waste and food poverty
FoodCloud is a not-for-profit social enterprise in Ireland with the aim of addressing food waste and food poverty. Aldi began a trial in three stores with FoodCloud in November 2014. Following its success. Aldi rolled out FoodCloud nationally to over 70 of its stores.
How we're reducing food waste
Every week we team up with FoodCloud to donate surplus food to local charities. FoodCloud provides a link between us and the charities that need us most. We have donated over 219,800 meals. As of October 2016, we had donated over 500,000 meals in conjunction with FoodCloud.
"The money that is saved through this initiative means we can divert more of our resources to providing all our essential services." Joe Sheridan, Shelter Housekeeper.