Enjoy this healthy dinner recipe taken from RTE's Operation Transformation
Portuguese-Style Fish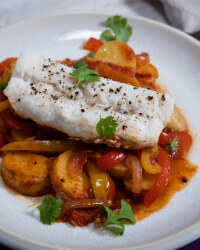 Recipe Information
Ingredients
1 red pepper
1 yellow pepper
1 small onion
350g baby salad potatoes
1 ½ tbsp rapeseed oil (22.5g)
1 bay leaf
1 tsp paprika (sweet or smoked)
2 x 150g firm white fillets, skinned (such as haddock, cod or hake)
1 garlic clove
400g tin chopped tomatoes
1 tsp tomato puree (5g)
5g fresh coriander leaves
sea salt and freshly ground black pepper
Method
Cut the peppers in half, then remove the seeds and cores and thinly slice. Peel and cut the onion in half and thinly slice. Cut the baby salad potatoes into 1cm slices.
Heat a large frying pan with a lid over a medium to high heat. Add one tablespoon of the oil and then stir in the bay leaf and paprika and cook for 20 seconds, stirring. Add the peppers, onion and potatoes, stirring to combine.
Peel and crush in the garlic and stir in with the tomatoes and tomato puree. Season lightly with salt, if using and pepper to taste and cover with a lid. Simmer for 10 minutes until the vegetables are softened and the potatoes are just tender.
Reduce the heat on the pan to medium-low. Season the fish with lightly with salt, if using and pepper and nestle in the vegetable and tomato sauce. Cover and simmer for another 5 minutes or until the fish is cooked through and piping hot – test with the tip of a sharp knife.
Divide the Portuguese-style fish among wide rimmed bowls and drizzle over the remaining oil, then scatter over the coriander leaves to serve.